Bratislava, the capital of Slovakia, is known to provide some of the best bachelor parties in Europe. It has now become a hot destination for unique stag do activities to make your experience unforgettable. From demolishing cars with tanks to off-road driving and shooting Kalashnikov's, a bachelor party in Bratislava is a true recipe for a wild weekend with the boys! With cheap beer, extravagant party, action-packed Bratislava nightlife, and a range of popular activities for a memorable stag weekend, Bratislava is one you simply can't miss out on.
Top 10 Activities in Bratislava for an Epic Bachelor Party
To make a memorable stag weekend, just choose the best activities Bratislava has to offer; army-themed action, VIP clubs, off-road, off-bridge, off-everything… and loads of Slovakian beer. Here are some of the most sought-after activities you can find in Bratislava to make for an incredible stag do!
---
1. Curling
To start, have a go with one of Bratislava's most popular winter activities, the wonderful sport of Curling. This game isn't that much of a brainer but works more on strategy, teamwork, and, most importantly, aim. The goal is to slide heavy stones to the target opponent area. The team closest to the house centre is declared the winner.
It is a game of strategy and teamwork with loads of fun and laughter but be sure to pack your warm clothes for this one because this sport is played on ice.
2. Traditional Slovak Stag
If you want an experience that is unique to Bratislava's traditional stag party, then enjoy it as the real Slovaks did in their day (and still do)!
What happens at a traditional stag do in Bratislava? You get to enjoy your party out in the centre of the woods in a lost cabin with your mates with plenty of beer, BBQ, and drinks to go around. This is one of the top stag do ideas. The only stag agency offering this activity is Enjoy Bratislava. And if you want to spice it even more, you can add a survival course in the woods with a professional instructor that served in Thailand.
3. 4×4 Offroad Driving
Speaking about outdoor activities, if you want something more intense, then conquer places with 4×4 off-road driving. You can drive completely off-road along woods, over mud, and rough terrain; a great way to bond with your pals and make your experience unforgettable! Go-Karting is sooo 2010!
This activity is done in the presence of a guide so you will be supervised all along the way. This is one of the best Stag Party Bratislava activities.
4. Car Demolition
Does the bachelor seem too stressed out before his big day? Bratislava has just the thing to help with that. Consider this, a tank, hammers and a used car … and you get to use them!
This car demolition activity is a true stress reliever, and you will have plenty of fun with the boys. Before you ask, yes, the tank is real and full-sized, and there is only one location in Europe where you can host this event. An instructor will be driving the tank to flatten the car as it is a dangerous maneuver but you will be sitting on the tank with him. If you want to drive a tank yourself, we have the perfect activity made for you!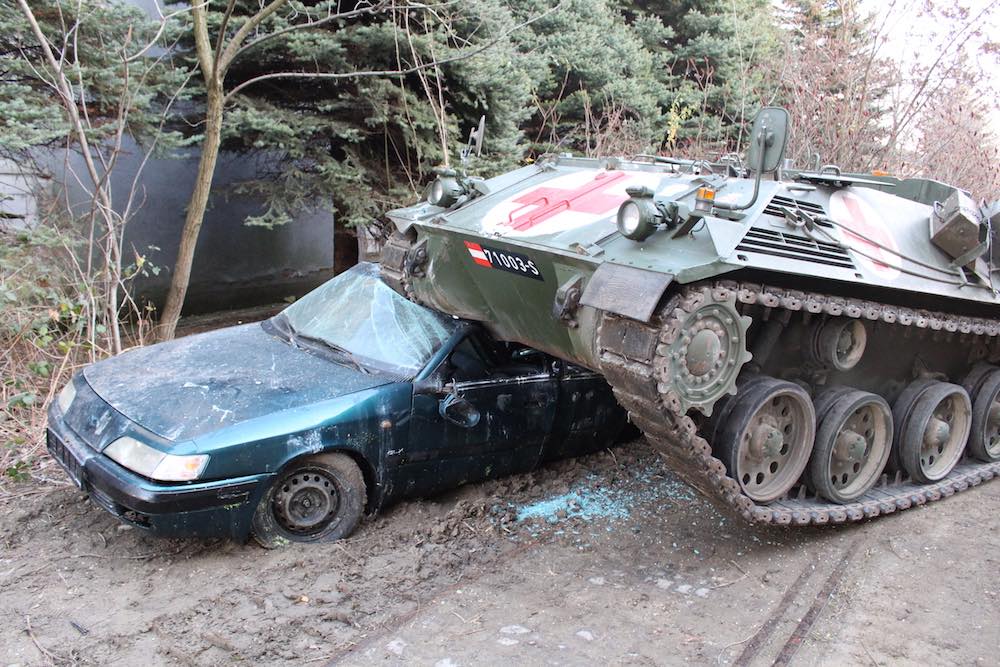 5. VIP Pub crawl
Bratislava may be small in size, but when it comes to drinking, it is a whole new story. So, take your time to stroll around the lively pubs and clubs scattered around the capital. Our sexy guides will be happy to craft a night of pub crawling for you with a visit to different venues based on your taste (beer connoisseur, cocktails lover, hardcore dancer, etc…. It will be a wonderful way to get a taste of the Bratislava nightlife and Slovakian drinks. 
Be sure to try out the traditional Slovak specialities on your crawl across the city. Some agencies such as Enjoy Bratislava will also be able to get you VIP passes into venues so you can easily skip past lines and get the true VIP experience.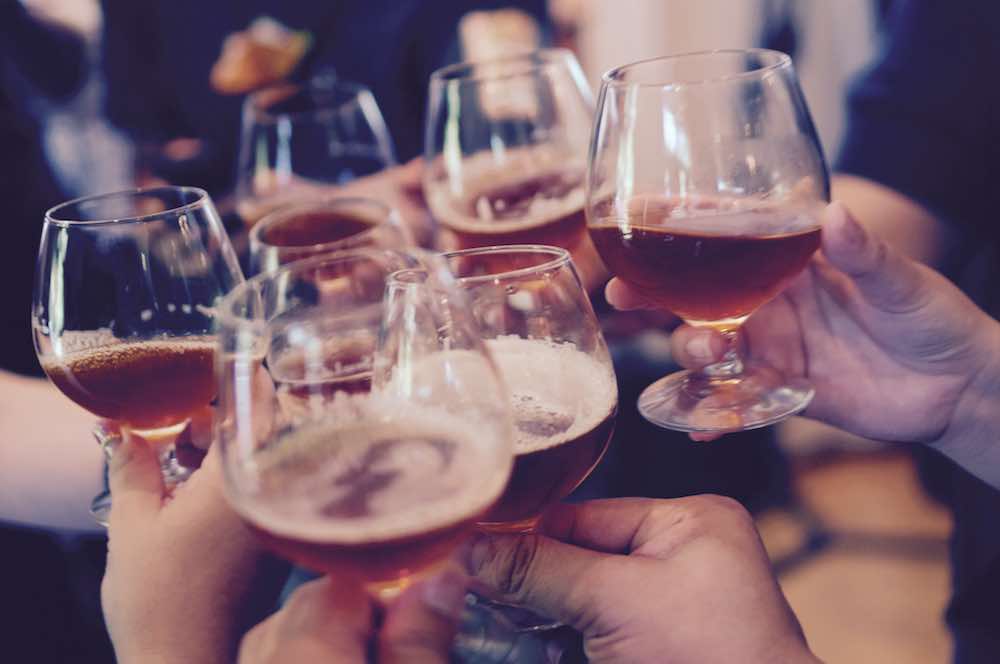 6. Beer Bike Bratislava
Another very famous activity among bachelors is a beer bike ride across Bratislava. A beer bike is a multiple passenger vehicle that you must pedal along as a group, usually steered by a sober guide. They are incredibly lightweight, so you can paddle along easily as you enjoy an ice-cold tap beer and the carrying sights of the city while laughing and enjoying the time of your life with your friends. The rides usually last for one to one and a half hours, giving you enough time to enjoy the town, the river banks, and of course, Slovak beer!
7. Kalashnikov Shooting
How would you like a special stag do with some action and adventure? This one involves shooting, so your boys will love it!
Kalashnikov is Russia's most popular weaponry; some call it the deadliest on the earth. A unique mix of history and adventure-bound to pump you up with adrenaline, this shooting session will be simply unforgettable. We provide with a range of firearms to choose from that aren't just limited to the Kalashnikov. A dedicated instructor will also guide you on the working of each weapon (with the proper safety measures, of course!)
Our best seller activity is the Army day, which combines real-weapon shooting and a ride with a real WWII tank. You surely can't go wrong with this action-packed half-day.
8. Cruise through the Danube River
If you visit Bratislava from spring to autumn, you can't leave without descending through the enchanting river Danube, one of the longest rivers in Europe – or try rafting on the wild white water where the Slovak champions train for Olympics games. The city of Bratislava is built along the Danube but it also offers lakes with various water activities. If you are not keen on adrenaline sports, simply take a walk along the Danube and enjoy the sights the city has to offer. This is one of the best things to do in Bratislava.
9. Steaks and Beers
When the evening sets in, you are bound to get hungry, and that calls for a fulfilling meal. But since it's your bachelor get-together, you want to spice it up and set the mood right for the rest of the evening! So, have dinner with excellent juicy steaks, burgers, chips, plenty of Slovak beers to go around, and it doesn't end there. Our menu includes a stripper which will privately dance in the venue for the stag and his pals.
This activity is a must book for multiple reasons: It removes the stress of choosing a restaurant last-minute (most of venues in Bratislava are not capable of serving bigger groups without reservation), we already filtered the good and the bad venues and last but not least, we struck great deals with them which means that you are actually saving money with us!
10. Slovak Wine Tasting
Are you looking for activities that involve enjoying fine wine? Perhaps your party is more indulgent on the sophisticated side of life. Slovak wine is incredibly fantastic and unique, and if you are a true wine lover, you will enjoy this activity as it happens at the vineyards and the location producer premises. Beers and pubs are pretty great to wonder about, but wine tastings can be the next best thing at your bachelor weekend!
We have plenty of other incredible activities for you to check out that make for an unforgettable stag do experience! So, check them out and plan the best bachelor party Bratislava for your groom.